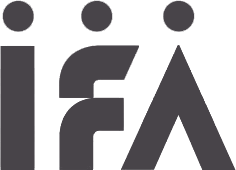 Institute for the Arts (IFA)
With its unprecedented research focus on the promotion of culture, arts and entertainment, and media, the Institute for the Arts (IFA) is unique among Japanese think tanks.

Since the Institute's foundation, we have made solid accomplishments in areas such as: support in promotional planning in the spheres of music, theatre, movie, art, sports, media, and lifelong learning or community building planning, and research on cultural industries; assistance with concept creation and management of cultural facilities; supporting government agencies and local governments in formulating strategies and projects; production of periodicals, brochures, and manuals; and website creation.

In line with our motto "Integrate the power of culture into society", our goal is to assist in promoting a better society through use of our deep and broad experience, information resources and human network in combination with valuable partnerships with you.
Major achievements
| | |
| --- | --- |
| Cultural Promotion Planning ・ Public Cultural Facilities | We support local public bodies in the planning of cultural promotion initiatives and in establishing public cultural facilities by assisting in the design and implementation of management schemes. Recent achievements "Basic research concerning re-establishment of cultural facilities " (2015) for the City of Chiba "Survey on customer satisfaction"(2015) for the Tokyo Metropolitan Foundation for History and Culture |
| Museum, Theatre & Hall Planning・Cultural events | We plan and renovate museums, theatres, halls, showrooms, plan cultural events, etc. We also undertake design supervision and planning management for such institutions. Recent achievements Research, planning & designing, and production of"Monozukuri/Takumi no Waza Expo 2016" -Highlights of Japanese Manufacturing Technology and Traditional Craftworks- (Project of Tokyo Metropolitan Government) Study on renewal of "Edo Shitamachi Traditional Craft Museum" (Asakusa) |
| Multiple languages・Inbound visitors・Overseas support | We provide assistance to facilities on issues such as multiple language measures, dealing with inbound visitors, and conducting overseas market surveys, as well as assistance with overseas outreach. Recent achievements "Survey on Multilingualization of cultural facilities"(2015) for Tokyo Metropolitan Foundation for History and Culture |
| Regional promotion・Project-making support for regional public bodies | We assist regional public bodies in the area of comprehensive planning, tourism promotion planning, child-rearing, nursing insurance services, elderly care, welfare for the disabled, health improvement, promotion of dietary education, etc. Recent achievements "Project-making support for the 2nd Health Improvement Plan" (2015-16) for Musashimurayama City "Survey on municipal government" (2015) for Musashino City |
| Survey on Culture and Media Industry | We conduct surveys on culture and media markets, make market forecasts and marketing plans, and support development of products, etc. Recent achievements "Survey on home entertainment market and user trends" (since 2013) for Japan Video Software Association (JVA)・DEG Japan. |
| Production of manuals, handbooks, and brochures | We plan, edit, conduct interviews, and produce various types of manuals and handbooks mainly in cultural fields. Recent achievements "Handbook on renovation of theaters and concert halls" (2015) for the Association of Theaters and Halls in Japan |
| Editing of periodicals | We plan, edit, conduct interviews , and produce periodicals by making use of our corporate knowledge in the cultural domain, and our network. Recent achievements Editing of "Regional Art-Activities bulletin" for the Japan Foundation for Regional Art-Activities. (Since 1995) |
| Production of Websites・Home entertaining・Multimedia software | We edit and produce CMS/CRM systems and websites including coding and design, and original contents. Recent achievements "Performing Arts Network Japan" (since 2004) for the Japan Foundation. |
Corporate information
| | |
| --- | --- |
| Company name | Institute for the Arts (IFA) |
| Corporate History | May, 1988 Establishment of Pia Research Institute Co., Ltd. September, 1993 Establishment of Institute for the Arts (IFA) (Business succeeded from Pia Research Institute Co., Ltd.) |
| Capital | 50 million yen |
| Location | Yoyogi office (Headquarters) 1-43-7, Hikari Bldg 4F, Yoyogi, Shibuya-ku, Tokyo 151-0053 Nakano Office 5-52-15-1040, Nakano, Nakano-ku, Tokyo, 164-0001 |
| We are affiliated with | - The Japan Association for Cultural Economics - The Association of Theaters and Halls in Japan |
| Our most recent clients | - The Agency for Cultural Affairs, Government of Japan - The Tokyo Metropolitan Foundation for History and Culture - The Japan Foundation - The Japan Foundation for Regional Art-Activities - The Association of Theaters and Halls in Japan - The Digital Content Association of Japan - The Japan Video Software Association (JVA) - Tokyo Metropolitan government - Tochigi prefecture - City of Minato - City of Yokohama - City of Chiba - City of Musashino, and others. |
| | Please feel free to contact us at info@ifa.co.jp |